POST: RON WOOD with JEFF BECK GROUP Series Vol 05a - 27 July 1968 - LOS ANGELES (#1 = LOSSY)
Ron Wood
with the
JEFF BECK GROUP
(1967 - 1969)
This series is dedicated to the first version of the Jeff Beck Group, the one that included Ron Wood in its line-up.
It is especially dedicated to the late Jeff Beck who passed away on January 10, 2023.
A big thank you to all the people who recorded these shows and who shared them and to my two accomplices nzb and Jaap (Stonesmuziekfan) who gave me the benefit of their versions of these shows and their advice and support ... and therefore without whom this project would not have been possible.
Volume 05a:
27th July 1968
- LOS ANGELES -
Shrine Exposition Hall
- lossy version -
27th July1968: THE JEFF BECK GROUP.: Los Angeles, California, Shrine Exposition Hall, 'Pinnacle Dance Concert'
Line-up: RW (bass,bvoc)/Jeff Beck (gtr, some voc)/Rod Stewart (voc, some gtr)/Micky Waller (dr)
01 - intro
02 - You Shook Me/Let Me Love You
03 - Morning Dew
04 - Jeff's Boogie
05 - Sweet Little Angel
06 - Hi Ho Silver Lining
07 - Beck's Bolero
08 - Rock My Plimsoul
09 - Shapes Of Things
10 - Rice Pudding
11 - band introduction
12 - When Something Is Wrong With My Baby (cut)
For this show we have two versions: one can be found in particular on 'Messin' With The Blues' (EVSD 489/491): it has a good sound, although a little saturated, but it's lossy.
The other one was posted on Dimeadozen by KRW_CO a couple of years ago (see the 'docs file'): it's lossless but unfortunately the sound is rather poor.
Here you'll find the lossy version
This version now has been declicked. I also deleted microgaps and reworked the tracks' transitions.
Note a fade in/out after 'Hi Ho Silver Lining', that "When Something Is Wrong With My Baby' is partial and that 'I Ain't Superstitious' is probably missing.
All the infos are taken from 'Woodworks' by Nico Zentgraf: the database devoted to Ronnie Wood's work with The Birds, Jeff Beck Group, Faces and many others before joining The Rolling Stones. [
www.nzentgraf.de
]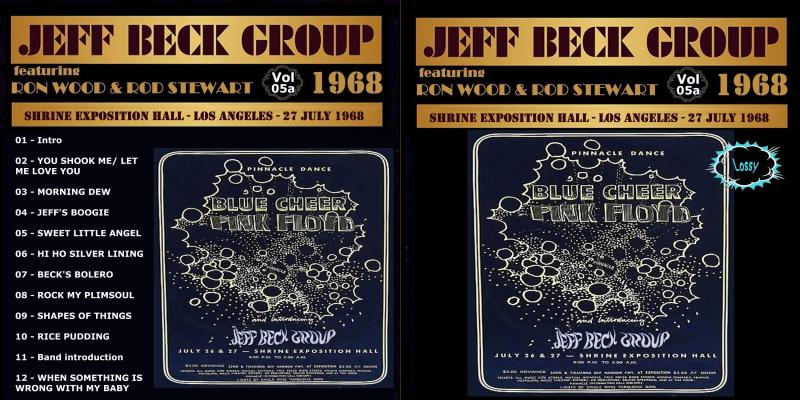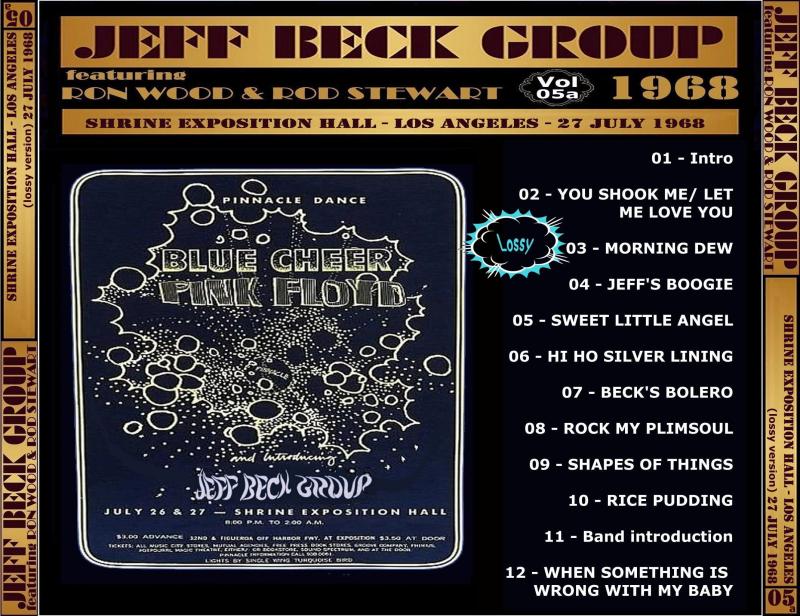 Posted in 2023 by StonyRoad on IORR: [
iorr.org
]
link valid until 06/03/23
[
we.tl
]
lossless version on Wednesday
Norbert
email:
stonyroad58@gmail.com