POST: Mick TAYLOR with Wentus Blues Band - Series Vol 08 - 15 September 2006 (Helsinki)
MICK TAYLOR with
WENTUS BLUES BAND.
2003-2006 Scandinavian tours
This is a series dedicated to Mick Taylor's shows with Wentus Blues Band in Sweden and Finland from 2003 to 2006.
A big thank you to all the people who recorded these shows and who shared them and to my two accomplices nzb and Jaap (Stonesmuziekfan) who gave me the benefit of their versions of these shows and their advice and support ... and therefore without whom this project would not have been possible.
VOLUME 08
15th September 2006
HELSINKI
"Aleksanterin Teatteri"
15th September 2006: Helsinki, Finland, Aleksanterin Teatteri
Note: 20 Years Of Wentus Blues Band-concerts.
Line-up: MT (voc, gtr)/Niko Riippa (gtr)/Mikael Axelqvist (dr)/Robban Hagnäs (bass)/Juho Kinaret (perc, voc)/Kim Wikman (gtr)/ Pekka Gröhn (keyb) and with lots of guests, notably Louisiana Red (gtr) on Shake Your Moneymaker
01 - Blind Willie McTell (rehearsal)
02 - It's Hurts Me Too (MT singing backstage with Lazy Lester and Louisiana Red on guitar)
03 - 'Easy Money' (MT joking backstage)
04 - Blind Willie McTell #1
05 - Ventilator Blues
06 - You Gotta Move
07 - Shake Your Moneymaker
08 - band introduction
09 - Blind Willie McTell #2
To celebrate the 20th anniversary of Wentus Blues Band, 3 shows in Helsinki, from 14 to 16th September 2006, were organized with lots of guests.
The shows were filmed by director Heikki Kossi for the upcoming documentary 'Family Meeting'.
In the audio release 'Family Meeting' (on Ruf Records in 2007, catalogue number Ruf 1134) Mick Taylor plays on 2 tracks that were not from the 15 or 16th September (so they have to come from the 14th September): « Blind Willie McTell » and « Ventilator Blues ». And also on one song from the 16th September: « Can't You Hear Me Knocking ».
Here I compiled what I found from the 15th September show (4 tracks).
For « Blind Willie McTell» I added a 2nd version coming from a private film with a better spectrum.
To complete the cd-r I added sequences coming from the video rip and for which the exact dates are unidentified: a shortened rehearsal version of « Blind Willie McTell » (note some crowd noises were added but the film shows an empty theatre) and two little sketches from backstage.
As usual all the infos are taken from The Mick Taylor Complete Works Database by Nico Zentgraf: [
www.nzentgraf.de
]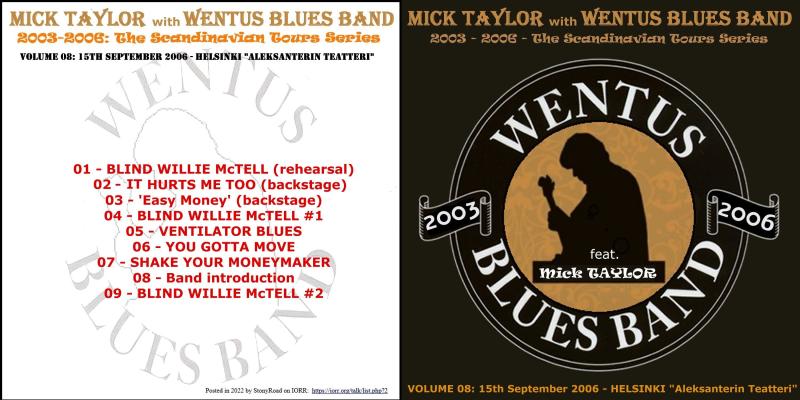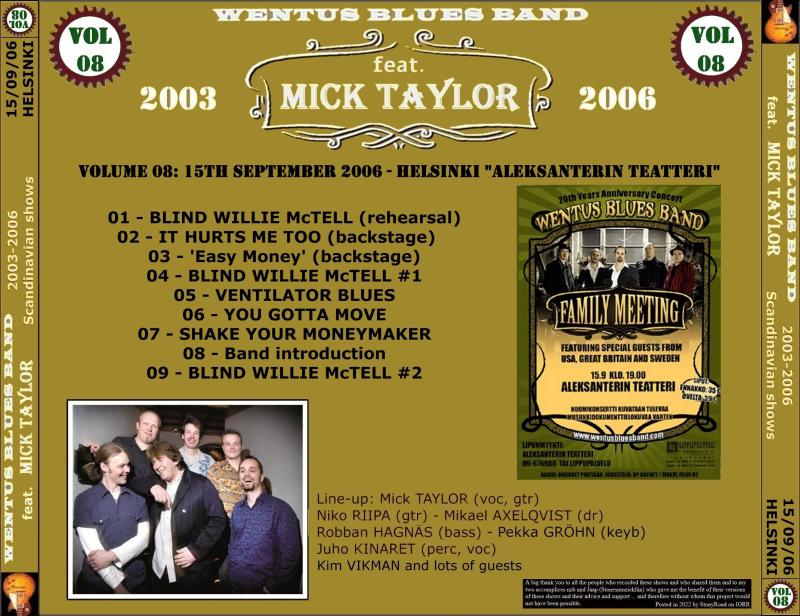 Posted in 2022 by StonyRoad on IORR: [
iorr.org
]
link valid until 29/06/22
[
we.tl
]
last volume on Friday
Norbert
email:
stonyroad58@gmail.com