POST: Keith RICHARDS & Winos - 1992 European Shows Series - Vol 07a - 10 December 1992 - Barcelona (lossless version)
KEITH RICHARDS
and The X-pensive Winos
The 1992 European shows
27th November – 18th December 1992
This is a series dedicated to Keith Richards' shows with The X-pensive Winos in Europe.
A big thank you to all the people who recorded these shows and who shared them and to my two accomplices nzb and Jaap (Stonesmuziekfan) who gave me the benefit of their versions of these shows and their advice and support ... and therefore without whom this project would not have been possible.
Volume 07a
10th December 1992
BARCELONA – Sala Zeleste
(complete lossless version)
10th December 1992: KEITH RICHARDS. Barcelona, Spain, Sala Zeleste
Line-up: KR (gtr, voc)/Steve Jordan (dr, bass, bvoc)/Charley Drayton (bass, dr, bvoc)/Ivan Neville (keyb, perc, bvoc)/Waddy Wachtel (gtr, bvoc)/Sarah Dash (voc)/Bobby Keys (sax, perc)/Babi Floyd (bvoc, perc)
CD1:
01 - Take It So Hard
02 - 999
03 - Wicked As It Seems
04 - How I Wish
05 - Running Too Deep
06 - Gimme Shelter
07 - Too Rude
08 - Big Enough
09 - Yap Yap
10 - Time Is On My Side
CD2:
01 - Hate It When You Leave
02 - Band introduction
03 - Before They Make Me Run
04 - Eileen
05 - Will But You Won't
06 - Bodytalks
07 - I Could Have Stood You Up
08 - Happy
09 - Connection
10 - Whip It Up
For this show we had the following sources:
- 'So Happy' (Happy Skull Records - SK1) - incomplete and lossy, but with a good sound
- 'The Spanish Gipsy At Barna' - complete and lossless, but the sound is hissy and with lots of defaults.
I will do two versions: one with only the lossless tracks (this one) that can be posted on all sites.
The other one will be a mix of both sources to get the most complete recording with the best sound possible (it will be posted only on IORR: [
iorr.org
])
The lossless version:
I equalized the channels (+ 40% to +30% for the right channel).
I deleted lots of defaults or attenuated them in particular in the first tracks some have remained (but I don't want to bother you with all the details).
I reworked the transitions: now the tracks start with the song.
As usual all the infos are taken from The Complete Works Of The Rolling Stones database by Nico Zentgraf: [
www.nzentgraf.de
]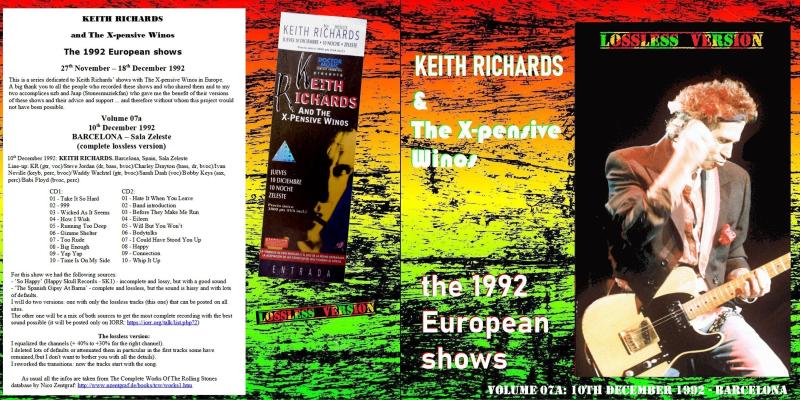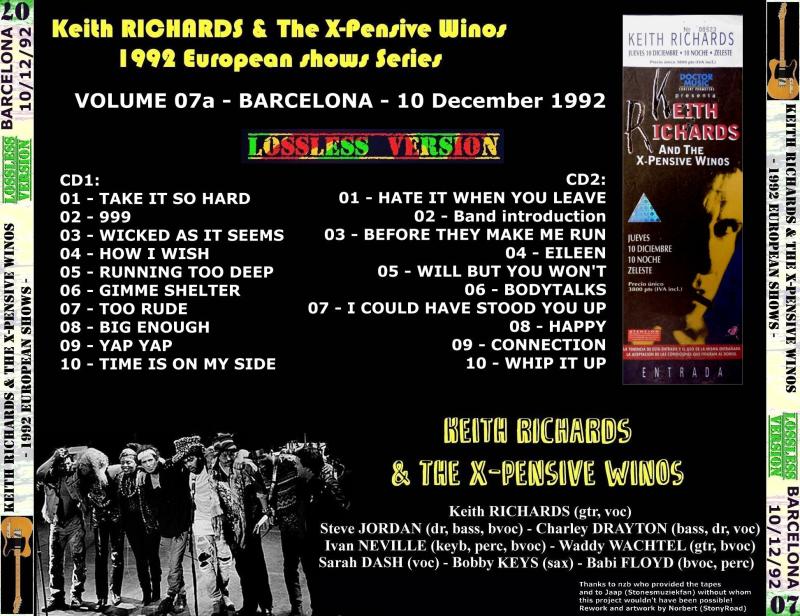 Posted in October 2021 by Norbert (aka StonyRoad) on IORR: [
iorr.org
]
link valid until 20/10/21
[
wetransfer.com
]
vol 07b on friday
Norbert
email:
stonyroad58@gmail.com