if i've been following things right, the people who are being required to prove that they're paid-up fanclub members
are the ones who bought tickets in the Sydney presale during that spell when the etix site had forgotten to make people give their passcodes.
those people are now being told they have to prove they're paid-up members or they'll have their tickets cancelled.
but from what you wrote, it sounds like you (or rather Mrs Deathgod) *did* use a passcode to get your Sydney tickets,
which means you're not in the group who needs to prove that they are paid-up fanclub members,
and that would explain why you haven't gotten any email other than your ticket confirmation, no?
of course the whole thing is a serious drag, even if you personally are not affected by it. i hope they settle it all in a decent way for people.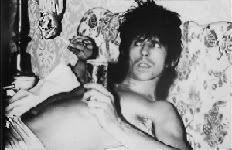 "What do you want - what?!"
- Keith
Edited 1 time(s). Last edit at 2006-03-05 00:20 by with sssoul.