Tim Ries on saxophone
What's it like to hit the road with the World's Greatest Rock `n' Roll Band?
For saxophonist Tim Ries, a Tecumseh native whose heart beats to the rhythm of bebop, it's not as hip as riding shotgun with Herbie Hancock. But it sure beats the heck out of schlepping to Broadway five times a week to play "Footloose".
You make dynamite bread, fly by private jet, wake up each morning in a $400-a-night hotel room -- and don't forget the standing invitation to party with Keith Richards.
"Keith was two rooms away from mine when we started out in San Francisco last month and I walked by one night at 2 in the morning and he was listening to this West African music, this incredible drumming," says Ries (rhymes with "bees"). "The next morning I asked him about it and he said, `Hey, listen, if you hear music, the cage is open. Just knock and come in.' "
At 39, Ries finds himself with the gig of a lifetime. You'll find him in the horn section when the Rolling Stones pull into the Palace on Monday night. A New York-based freelancer, Ries usually divides his time among Broadway pit orchestras, studio work (jingles, film scores) and jazz gigs or recordings. In a perfect world, he'd be able to make a living playing nothing but the kind of heady post-bop jazz featured on his latest album as a leader, "Universal Spirits" (Criss Cross). But for a musician like Ries -- talented but neither a star nor a sideman with a big-name leader -- jazz rarely pays the rent.
In the `80s after college, Ries joined trumpeter Maynard Ferguson's jazz-rock aggregation. Dig the numbers: $350 a week, 400 miles a day on a bus, $40-a- night motels. Ries saw every high school gym in America. Later, he'd take his own groups to Europe and, subtracting expenses, end up with nothing. Serious dues. Studio work, Broadway and an exhausting seven-day-a-week schedule have raised his income into the healthy five-figure range, and though Ries turns coy when quizzed about his Stones salary, he admits that he'll make as much for 17 weeks with Mick and Co. as he would normally haul in during a typical year.
"It's really nice to be treated the way you should be as a musician," Ries says, speaking by phone from the Beverly Hills Four Seasons. "You know, if I was a business major, I could get out of school and start working on Wall Street and I could be making more than this as a 22-year-old kid. I know it's not supposed to be fair or even but, still, this is the way it should be."
Ries got the job with the Stones when the previous saxophonist (Andy Snitzer) decided not to make the current tour and a buddy in the horn section recommended Ries join the posse. When Mick Jagger and Richards signed off on the idea in November, he was in the band. Then he had to learn the book, and because the Rolling Stones don't have written horn charts -- this ain't the London Phil -- he had to learn everything by ear.
Ries stocked up on Stones' greatest hits albums and spent the next six weeks wearing headphones around the house, transcribing the saxophone parts to evergreens like "Brown Sugar," "Jumpin' Jack Flash" and dozens more. Because he was also asked to play keyboards on several tunes, he learned those parts, too.
"We're not really a couple who listens to the Rolling Stones," says Ries' wife, Stacey Shames, a classical harpist. "It was kind of Rolling Stones saturation. Tim was excited but also a little nervous, which is unusual, but he was a little out of his element."
Ries flew to San Francisco in January for eight days of rehearsal -- 6 p.m. to 2 a.m. every day. The band ran down some 90 tunes in preparation for a 22-song set list. Of those, about 16 are the same every night, and the rest are wild cards. In rehearsal, Jagger ran the show.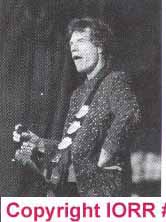 "Mick is sort of the professional in the sense that in rehearsals, between songs, Keith would sometimes go into something and they'd just jam for a while, and Mick would be the one who was looking at his notes, deciding what tunes to do," Ries says. "He was very take-care-of-business."
On a technical level, the Stones' music is simple compared to Ries' typical work -- sight-reading a complicated jingle or improvising over a complex set of chord changes. But after 35 years the Stones strike a groove as deep and refined in its way as the Modern Jazz Quartet.
Ries' main challenge is to find his place in the music without throwing any elbows along the way. Playing in tune, blending with the other horns and staying focused can be tricky in front of 20,000 screaming fans.
The volume of the band, loud but not deafening, has been a pleasant surprise for Ries. "They don't bash like newer rock groups," he says. "Charlie Watts plays a lot like a jazz drummer. He plays with a relatively light touch and that sets the tone for the band."
Watts, who in fact moonlights as jazz drummer when not touring with the Stones, listens to jazz constantly on the road. Ries was tickled to learn that he and Watts worship the same Holy Trinity of drummers: Tony Williams, Roy Haynes and Pontiac native Elvin Jones. "Every day we talk about music," Ries says.
Ries' interaction with Jagger has been more limited, but rock's youngest 55-year-old has been liberal with compliments. He'll flash a thumbs-up sign, offer a pithy "jolly good, mate" or let Ries know that " `Ruby Tuesday' sounded great tonight."
Ries' biggest shock came on the tour's opening night in Oakland, Calif., when Jagger introduced the band: "I didn't know what to expect on stage, but Mick was cool. He said, `And now, for the very first time playing with the Stones, the-newest-member-of-the-band, Tim Ries on saxophone.' "I didn't even know he was going to remember my name. So it was great."




It's Only Rock'n Roll no. 36 - May 1999 - © The Rolling Stones Fan Club Of Europe