The No Security Tour
For the first time in many, many years, the Rolling Stones were down to a tour that would be 99% rock'n'roll and 1% effects. That stage looking muck like the arena stage used last year, but even more flat, and with some yellow and black "no security" decorations - that's all.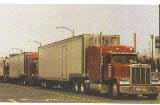 Far up above the stage, facing the crowd, they had a wide video monitor, used mainly to show shots from the show. Also, they had monitors on the sides, and at the back.
As the show started, they were showing an absolutely amazing black&white video on the screen, while heavy riffs of a pre-recorded bit of Might As Well Get juiced pumped out of the PA. The pre-recorded video showing Mick, Keith, Charlie and Ronnie, walking in slow motion under some backstage area. Then Keith was out there on the stage, starting up Jumping Jack Flash!
The first night in Oakland was like an unpolished diamond. Great new songs. Undercover of the Night, Moonlight Mile, Shine A Light, Some Girls. Keith doing a magnificent acoustic slide on You Got The Silver, sitting on a stool.
Out Of Control was spiced up by a cage trick. A big steel cage was lowered down to the stage, and Mick popped up in a split second inside the cage, later on to break out. It all looked a bit silly, and after a few shows, they scrapped the cage.
The small stage was in the center of the arena, with a walkway from the main stage. No bridge, no extras. They did Route 66 as a starter down there every night. And Midnight Rambler used to close down the small stage, a song so intense and great that the fans gave up trying to tell about "Rambler" in words.

All in all, a very strong set, even if they were soon down to only 20 songs, lasting for exactly two hours. But with the Stones, it's not quantity that counts, but quality. The fans paid a lot to see the shows, with ticket prices from $50 - $300, average $110, but most seemed satisfied.
During the last songs of the 2nd night in Sacramento, it happened again. Mick had problems with his voice. The two following shows in San Jose had to be postponed, and the white & red trucks had to move out for the next destination.
The tour followed a path from California, north-east, then down to Florida, and up through the East Coast, then further north, via Chicago two times, all then way back to the postponed San Jose shows.




It's Only Rock'n Roll no. 36 - May 1999 - © The Rolling Stones Fan Club Of Europe