Live at The Double Door
Chicago, Sept. 18, 1997
by Linda Raeburn, England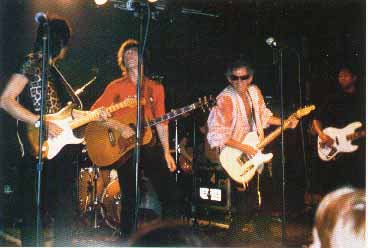 I flew into Chicago from Heathrow late afternoon on 18 September, having tickets for the first two shows at Soldier Field. Later in the evening, the Gods looking so kindly upon me, I took a taxi to the Double Door. Some stringent security search measures outside meant I got into the club about 10 minutes before the Stones came on. As the club was so small, it didn't matter that I was not in the front row. Instead I got a perfect view - of Mick and Keith at least - from the bar.

The Stones launched unannounced into Little Queenie, Keith in pink jacket and shades, Mick looking pleased but cool. Rocking on with 19th Nervous Breakdown, You Got Me Rocking, Crazy Mama, The Last Time, they were obviously pleased with the sound and response from the audience - lots of smiles and the occasional hug between the Glimmers!

Anybody Seen My Baby harmonies were a little uncertain but this got better by the second show in Chicago. The highlight was definitely Out of Control with Mick a tightly coiled spring twitching to bounce off the tiny stage; it sounded superb live. On a roll now, with Let it Bleed, and, a real delight, Shame, Shame, Shame. Heaven on Earth continued with Honky Tonk Women, Start Me Up and Jumpin' Jack Flash; then they were gone.

Just over a week later I returned to London, wondering when I might see them again. Meanwhile I wait and wonder what they will play the next time. I can play the album and I've seen Brian Knight and The Counterfeit Stones but wish the Gods to look kindly upon us again - hopefully at Madison Square Garden.




It's Only Rock'n Roll no. 31 - Jan. 1998 - © The Rolling Stones Fan Club Of Europe