It's Only Rock'n Roll - No. 29 - September 1997
The Rolling Stones Fan Club of Europe
What we all have been waiting for so long all summer, is finally about to happen! The tour announcement was finally done on August 18 in New York, and the new Rolling Stones World Tour will start in Chicago on September 23. The week after we will have the new album Bridges to Babylon in our hands and on our record players. The IORR magazine will ramp up the publishing frequency, so that you will receive a new magazine every 6 weeks up to Xmas. This way you will be 100% up to date about what the Rolling Stones are doing, where they play, what songs they do, and you will get the greatest photos available soon. This issue will be dedicated to the tour announcement and the press conference. If you are missing some information, then please tell, and it will be in the next issue. It's Only Rock'n Roll! ----- Bjørnulf
---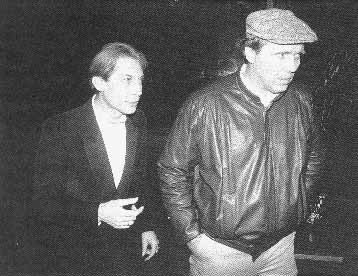 Flashback! This great photo is showing Charlie Watts and security manager Jim Callaghan (JC), on Feb. 11, 1983, on their way to the premiere of the new Stones film Lets Spend The Night Together. Thanks JC, for always keeping safe still accessible security!

---
It's Only Rock'n Roll is a non-commercial, non-profit Stones magazine published quarterly by editor Bjørnulf Vik, Norway.
© The Rolling Stones Fan Club Of Europe 1980-1997. No parts of IORR may be copied or reproduced without permission.




It's Only Rock'n Roll no. 29 - Sept. 1997 - © The Rolling Stones Fan Club Of Europe