Bits and pieces
Charlie Watts fans unite!
by Kathy Krumm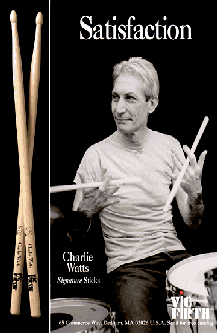 OK, I admit it. I'm going through a strange midlife crisis, but it's not so bad. I just Charlie to get some recognition for the kind of man he is, and the contribution he has made to the longevity of the Stones. Keith has described Charlie as the "glue that hold us together", and has said that the Stones will keep going as long as Charlie can and will continue. And he is a man of his word... he has said he will be there for the other members of the Stones when they need him, that he will drop anything he may be doing with the Charlie Watts Quintet to join the band whenever they need him.
That's the same kind of devotion and loyalty he shows his wife of over 30 years and his family... he is a man of honor, dignity and integrity. Not only is he the world's greatest rock and roll drummer, but he is quite possibbly the greatest drummer of any type of music he is performing. His passion for jazz and the standards has not diminished over the yearsand he has managed to successfully have the best of both worlds in his musical endeavours.
He has kept out of the scandals and controversy that have plagued the Stones over the past three decades. He has protected the privacy of his family like a Knight in Armour and has remained true to what he believes is right. And he's a really snappy dresser! I think we need to let him know how much we respect him, his character as well as his seemingly unlimited talent.
Every album demonstrates his growth as a drummer... he just gets better and better. So, let's let him know... have you ever met him, spoken with him, snapped any pictures of him? Share them with those of us who admire him so much. Email me at [email protected] or writeb me the old timey way at Kathy Krumm, 4017 Orchard Hts. Rd NW, salem,Oregon 97304, USA.
The Rolling Stones European Tour 1976 by Christian Milanini, France
This is a private publication book, made up of excellent photos from the 1976 tour - 154 pages - 166 photos - 48 on full page. English, French, German and Spanish news reports too. Not for sale, just for trade. It looks great, indeed. Contact: Christian Milanini, 33 Rue de la Robertsau, 67800 Bischheim, France.
Complete Works Vol. 1
Nico Zentgraf finally released his update of the well known COMPLETE WORKS Vol.1. The book was available by mid July. For further information check out Stoneware Publishing: Web: http://www.inka.de/sites/reuthe/books.htm. Prices are: Europe 30 DM overseas seamail $22, airmail $31. Mailing address: Stoneware Publishing, Werner Dwenger, P.o.box 130 307, D-20103 Hamburg, Germany.
A Journey Through America with The Rolling Stones - Robert Greenfield
This classic Stones book from the 1972 tour is now re-published by Helter Skelter books in UK. Price GB pounds 12 plus 1.50 post and packing. To order it write to Helter Skelter, 4 Denmark Street, london WC2H 8LL, England
It's Only Rock-n-Roll: The Ultimate Guide to the Rolling Stones by
James Karnbach and Carol Bernson
This Three generations of fans have enjoyed the music, madness, and mayhem of The Rolling Stones. Here is the first and only guide to chronicle the entire history and creative output of "The Greatest Rock-n-Roll Band in the World," including their concerts, sessions, recordings, films, videos, TV appearances, and bootlegs. Featuring a foreword by former band member Mick Taylor, "It's Only Rock-n-Roll" chronicles the band's legacies, from the day each member was born to today, focusing on their peak years: the 60s and 70s.
This unparalleled, fact-filled resource includes such previously undocumented coverage as:
+++ the day the Stones arrived at JFK for their first U.S. tour and their flight number +++ New concert setlists, information on recording sessions, and tour dates +++ An extensive, twenty-page chronology that provides a meticulous history of the band +++ Rare photographs, album covers, and other visuals from the authors' private collection.
Due to be published in September 1997 - 92 black-and-white photographs. Index. Chronology. 400 pp. 8.5 x 11. ISBN 0-8160-3035-9 $40.00 hardbound. ISBN 0-8160-3574-4 $24.95 paperbound.
This must be the book of the year, a must for the fans. More later... PS. The book may be renamed No Stone Unturned




It's Only Rock'n Roll no. 29 - Sept. 1997 - © The Rolling Stones Fan Club Of Europe