Underground releases
Lots more new titles coming out in the underground market. These are the best ones. Special thanks to Hendrik Mulder, Holland, Jaime Castaneda, Australia and Øyvind Mjølund, Norway for contributing reviews. PS. If you know about new and great titles then please do a review!
Paradiso - The Foottappers and Wheel Shunters Club Gig. 2CD. Labels: Vinyl Gang VGP 084 and Real Live RSP 96011/12. Source: Paradiso, Amsterdam, Holland, May 27, 1995. Quality: Exc- recording - not perfect, but miles and miles better than the previously available poor quality Paradiso releases. Taken from the same source tape; Vinyl Gang slightly better edited.
R.S.V.P. CD. Label: Cool blokes production. Source: Excellent quality, new versions of No expectations, Stray cat blues and Dear Doctor.
CD1: Sympathy for the devil II/ No expectations/ Dear doctor I/ Parachute woman/ Jigsaw puzzle/ I'm a country boy/ Prodigal son/ Stray cat blues/ Factory girl/ Salt of the earth/ Hamburger to go/ Downtown suzie/ Highway child/ Still a fool/ Dear doctor/ Dear doctor/ Dear doctor
Southern Quotations From Chile 1995 2CD Label: VGP 089. Source: Santiago, Chile, Feb, 19 '95. Vg+ soundboard recording; Jumpin'jack flash is missing.
CD1: Not fade away/Tumbling dice/You got me rocking/It's all over now/Rocks off/Sparks will fly/Satisfaction/Out of tears/Angie/Rock and a hard place/Love is strong /I go wild
CD2: Miss you/Band intro/Honky tonk women/Before they make me run/Slipping away/Sympathy for the devil/Monkey man/Street fighting man/Start me up/It's only rock 'n roll/Brown sugar
Steel Wheels Tokyo 1990 Label: VGP 080. Source: Live at Tokyo Dome "Big Egg" Feb 26 1990.
Finally here it is complete and perfect!! There have been many releases of this Tokyo 90 show on CD but none of them complete, they are usually missing 2000 Light Years from Home and/or Its only RocknRoll. But once again the Japanese CD label Vinyl Gang have delivered the goods.. 100% COMPLETE and from a soundboard source not an edited TV broadcast! The sound is comparable and more enjoyable than Flashpoint, and it could almost make Flashpoint sound like a studio album. The Tokyo fans are wild !
CD1: Continential Driff/ Start Me Up/Bitch/ Sad, Sad, Sad/ Harlem Shuffle/Tumbling Dice/ Miss You/ Ruby Tuesday/ Almost Here You Sigh/ Rock & A Hard Place/ Mixed Emotions/ Honky Tonk Women/ Midnight Rambler/ You Can't Always Get What You Want
CD2: Can't Be Seen/ Happy/ Paint It Black/ 2000 Light Years From Home/Sympathy For The Devil/ Gimme Shelter/Intros/ It's Only Rock 'N Roll/ Brown Sugar/ Satisfaction/ Jumping Jack Flash
The best CDs I could previously find from this show were 'Rolling Stones 90' on the Papillon label and 'Not Fading Away' on the Music Cloak label but they are both missing 2000 Light Years from Home and Its only RocknRoll plus the source recording for these CDs has had Micks talk inbetween the songs edited out.
This Vinyl Gang release is 110% it starts with the background music they play before the show, then the Japanese crowd goes wild as the lights are turned out , the intro music starts then Start Me Up! the 2nd CD ends fading with the crowd control authorities annoucing stuff on the PA. In between songs Mick talks to the Audience and says a few lines in Japanese which is all on this CD and not on others.
Voodoo Stew 4CD box on Vigotone. Finally I got my hands on to it. How great! The brand new underground CD-set from Rolling Stones was mine. The set included 4cds and a 32 page booklet. All from the start you get the feeling, you've got your hands onto something unusual. The box (which is LP album size) clearly shows that there's some Voodoo around here. The cover-box is covered by dead people, adults but also some children - some in their beds, and some in their coffins. Kinda' strange layout by my opinion, because the rest of the things inside doesn't have much dead bodies on it - exept from the cover on the booklet, which have a child in a coffin on the front page.
The booklet is also great. At first, there's a track list for all the CDs, including who's playing what. Then Mick and Keith slightly guides you through the Voodoo Lounge songs. Telling how they were made and what and how they feel for each track on Voodoo Lounge. Humans are in focus on the Voodoo Stew. The box-cover is covered with dead people, and the booklet is illustrated with nude women from the 20-30 and some well known devils. The CD-covers are great too, the same Voodoo style that we've seen much of already, with the nude women and pictures of the band members, and with some devils on behind.
My expectations had reached the top level when I insert CD number one in my CD-player. The Cd was labeled 'Keith Richards Voodoo Lounge' and I felt this could be a hit. Keith goes through almost all the songs on Voodoo Lounge + some additional new stuff, using Mick as backing vocal. And yes - Keith sings, It's cool and it's different hearing Keith's voice on 'Love is Strong' and 'You got me rocking'. And I've already noticed how good it sounds - the quality is great! Fully digial recording! As funny as it sounds, this CD isn't presented in the booklet, while all the others are...
Stack o'Tracks is the second CD. Hey, it's the entire Voodoo Lounge exept from 'The worst'! It's just different remixes, with no vocals - so here's the Voodoo Lounge - instrumental. 'New faces' played unplugged, some long talking sequences, and Mick tuning his guitar - doing a lot of riffs is doing the entire CD to a sucsess.
With a little bit of curiousity I listen through the third of the four CDs, titeled 'Zulu Fun Mixes' which is a pre-production from the Barbados songs presentations. Almost all the songs on this one are new ones. A cool CD, but I think this ones is the less coolest of the four - though songs as 'Zulu', 'Posesses me' and 'Bump and ride' are great tracks with great sound, I just hasn't seen the light completely for this one yet. Very special...
And then to the excellent guitar duo, Ron Wood and Keith Richards perform at their best on disc four - 'It's a tall order for two queers'. These guys really have much fun! Much of this disc is talking, and testing different things. It's so cool when you kinda hear Keith in the background complaining about a bad microphone, and hear they will replace it, then a click and Keith's voice are so loud that you can hear his breathing... But the best thing about this one is the last track, 'You got it made' where Keith and Ron's doing some overdubbing background vocals - and just can't get it right. They're trying over and over, until they get it right.
This is a great set! And you've got almost five hours of Stones music - what more can you wish ? Though, I don't like the dead people lying in their coffins on the cover of the box and the booklet the music and the booklet is great! It all is from the Voodoo Lounge rehearsals, so everything is new material - some songs didn't make it to Voodoo Lounge, but they made it to the Stew, so don't miss any. Buy Voodoo Stew!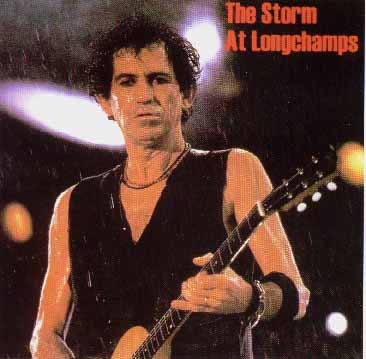 Comeback To Paris 2CD. Label: VGP 076 (Vinyl Gang Product). Source: Paris, June 30, 1995. Quality: VG audience recording. Complete concert. Great photo of Keith & Darryl inside; Mick on ouside cover.
The Storm At Longchamps 2CD. Label: VGP 077. Source: Paris, July 1, 1995. Quality: VG audience recording. Complete concert.
Mick had just said "Good Evening Paris" in French, and jumped into "You Got Me Rocking", when the biggest rainstorm I've ever seen simply soaked everyone totally wet within minutes! On this CD release, you can see Keith on the front cover photo, soaking wet following the rain storm. The recording of this concert is not perfect, as the rain keep pouring down... Perfect title & cover shot!





It's Only Rock'n Roll no. 27 Nov. 1996 - © The Rolling Stones Fan Club Of Europe