Bits and pieces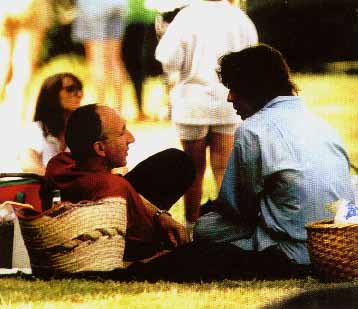 Mick Jagger has been busy on various projects lately. First of all, he has been enjoying some time off, like you see on the photo on this page, with Pete Townsend (old friend from the Circus...) and Jerry Hall, on Sports Day, June 25.
Mick Jagger is involved in several film projects. First, he will appear as Greta, a transvestite nightclub owner in Berlin. The director of the film, shot in Scotland, is Sean Mathias. It features the story of three homosexual men having a hard time during the nazi days of the 30's. Mick is supposed to be singing as well in the film!
More movie stuff: Mick Jagger plans to produce 13 films over the next five years. Stars for the films includes Antonio Banderas, who is to play Che Guevara in a 1960s love story, Harrison Ford, Jack Nicholson and others. Another Mick Jagger movie project involves Enigma, a wartime thriller based on the best-selling novel by Robert Harris. The movie company is named Jagged Films.
Keith Richards went to Venice, Italy to attend the film festival in September. The great photos on the front page of IORR and on the following page is taken by Max Cissotti 141 of Big Pictures.




It's Only Rock'n Roll no. 27 Nov. 1996 - © The Rolling Stones Fan Club Of Europe