The following is a brief list of new underground releases that have appeared lately. Some are really nice and worth having, others are trash. Quality ratings are from Poor (low quality) via Good (less than medium quality) to VG (very good = acceptable, still not perfect) and Exc (excellent, from radio, tv or other perfect sound sources.
IORR don't sell these underground releases, and can't tell you where to buy. Still, if you check into collector's record stores, small private stores, flea markets or record fairs in your area, or when travelling, you may bump into some of these items. Then it's important to be well prepared - IORR will try to guide you so that you pick up according to your taste.
CD1: Not Fade Away/Tumbling Dice/You Got Me Rocking/It's All Over Now/All Down The Line/Rocks Off/Live With Me/Sparks Will Fly/Satisfaction/Beast Of Burden/Wild Horses
CD2: Fool To Cry/Love Is Strong/Love In Vain/Like A Rolling Stone/Heartbreaker/Monkey Man/Rock And A Hard Place/Gimme Shelter/I Go Wild/Miss You
CD3: Intros/Honky Tonk Women/Before They Make Me Run/The Worst/Happy/Slipping Away/Sympathy For The Devil/Street Fighting Man/Start Me Up/It's Only Rock'n Roll/Brown Sugar/Jumping Jack Flash
Voodoo Brew (4CD box).
Label: Vigotone 147-150. Quality: EXC. Source: Voodoo Lounge outtakes and rehearsals. Color box, color book in the box, and color CD covers. This is the ultimate CD release, best in a long, long time, if you don't count the official ones! Highly recommended!
Some insiders have supplied the excellent stuff, and these 4 CD's brings you through the making of Voodoo Lounge. A 32 pages book tells you all details, who plays what on each track etc. Each CD is dedicated to Mick, Keith. Charlie and Ronnie, as numbered 1 to 4.
CD1: Subtitle "The Alternate Voodoo Lounge: Mick&Keith Dialogue/Love Is Strong/You Got Me Rocking/Sparks Will Fly/The Worst/New Faces/Moon Is Up/Out Of Tears/I Go Wild/Brand New Car/Sweet Hearts Together/Suck On The Jugular/Blinded By Rainbows/Baby Break It Down/Thru And Thru/Mean Disposition/Ron&Keith dialogue
CD2: Subtitle: Keith plays his favorites. Salty Dog/Guitar Overdub/salty Dog(2)/Cocaine/Cocaine(2)/I get A Kick Out Of You/Goodbye To Love/Love's Tough Shit Baby/Keith's Boogie/Goodbye To Love/I get A Kick Out Of You(2)/Cocaine(3)/Crying Waiting Hoping/Love Is Stronge/Make No Mistake/Girl Of The North Country/John Wesley Harding/Blues Jam;riffs/Brand New Heartache/Scotty Moore riffs/Reverse Boogie;riffs/Please Please Me/Sparks Will Fly - riffs & dialogue
CD3: Subtitle: Alright Charlie. Alright Charlie/It's Alright - Untitled 1/Hold On You/Ivy League/Get It Made/Untitled 2/Jump On Top Of Me/I'm Gonna Drive/Untitled 3/Untitled 4/Make It Now/It's Funny/Untitled 5/Keith's dialogue
CD4: Subtitled: Rehearsals, Alternate Mixes and early Versions. The Storm/You Got Me Rocking/Sparks Will Fly/The Worst/Out Of Tears/Brand New Car #1/ Sweethearts Together/ Sweethearts Together #2/Blinded By Rainbows/Baby Break It Down/Thru And Thru/Thru And Thru 2/The Storm 2/The Storm 3
Atlantic City '89 (4CD box). Label: The Swinging Pig TSP-CD-075-3. Quality: EXC. Source: Atlantic City, Dec. 19, 1989, broadcast. Big 12" box, poster inside. Another great re-release from a great underground label. And again, if you don't have it, I would recommend it. It comes with a 4th bonus CD with pre/post Atlantic documentaries plus rare tracks from the '89 tour: Shattered/One Hit/Almost Hear You Sigh/Angie/Play With Fire/Dead Flowers/Before They Make Me Run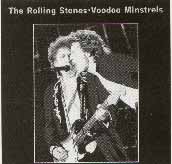 Voodoo Minstrels (2CD). Label: VGP 067. Quality: VG-. Source: Montpellier, France July 27, 95. This is the complete Montpellier show, with special tracks including Let It Bleed, Angie, and most important, the rare duet with Mick and Bob Dylan on Like a Rolling Stone. And before Gimme Shelter, you can hear the crowd singing "Happy Birthday", to celebrate Mick's birthday the day before.
Mick Jagger: Through The Years - A Collection Of Solo Performances 1982-93 (1CD). Label: The Swinging Pig TSP-CD-191. Quality: EXC. Source: Various solo, studio, live and rehearsal tracks by Mick. Great and rare stuff from Far East tour, Live Aid, Jeff Beck etc.
CD1: Deep Down Under(tour rehearsals)/Around And Around/Let It Rock/Back In The USA/ Lonely At The Top/ Just Another Night/Miss You/State Of Shock /It's Only Rock'n'Roll /Honky Tonk Women/Sympathy For The Devil/Dead Flowers/Shine A Light/ Little Red Roster/Memory Motel/No Expectations/Sweet Thing/Don't Tear Me Up/I've Been Loving You Too Long/Stomp
Hampton '81 (2CD box). Label: The Swinging Pig Records TSP-CD-100-2. Quality: EXC. Source: Hampton Coliseum, December 18, 1981, broadcast. This is a new release of this fantastic 1981 recording, with improved quality. Recommended if you don't have it already...
Shattered In Europe (2CD): Label: The Swinging Pig TSP-CD-184. Quality: EXC. Source: CD1: Napoli, Italy July 17, 1982. CD2: Keith rehearsals Nice & Napoli 82. The CD2 is a bonus, make sure you get it. It's a single slim CD pack!
CD1: Under My Thumb/When The Whip Comes Down/Let's Spend The Night Together/ Shattered/ Neighbors/Black Limousine/Just My Imagination/Intros/Little T&A/Angie/Tumbling Dice/She's So Cold/Hang Fire/Miss You/Honky Tonk Women/Brown Sugar/Start Me Up
CD2: Hard Travellin'/Hit The Road Jack/Rock'n Roll Jam/He'll Have To Go/Lonesome Whistle/Will You Love Me Tomorrow
---
Details of "Da'Lapa Incident (Lisbon, Portugal, 95); Munich 95; Rotterdam August 30, 95 and the Midnight Beat release "Acetates" to follow in IORR 26.
---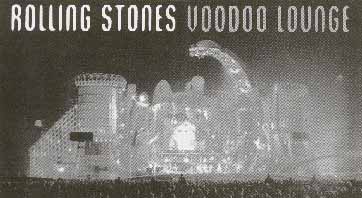 ---




It's Only Rock'n Roll no. 25 Feb. 1996 - © The Rolling Stones Fan Club Of Europe