Bill Wyman
Groovin'
New single/album release
This page updated March 28, 2000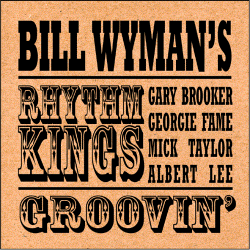 For the Bill Wyman tour dates this spring/summer see Pollstar.
Bill Wyman and The Rhythm Kings will be releasing a new album and a new single in April 2000. This is the release schedule in Europe:
Groovin' the single will be available on Papillon / Ripple Records on Monday, April 10th.
Groovin' the album will be available on Papillon / Ripple Records on May 15th
These are the tracks:
groovin'
daydream
rough cut diamond
mood swing
hole in the wall
tell you a secret
can`t get my rest at night
i put a spell on you
tomorrow night
i want to be evil
rhythm king
oh baby (we got a good thing going)
streamline woman
yesterday's
Label details and release dates:
Label: Papillon / Ripple Records
| | | | |
| --- | --- | --- | --- |
| EUROPE: | Single release date: | 03 April 2000 | RR 2104-3 CM |
| | Album release date: | 15 May 2000 | RR 8544-2 CD |
| UK: | Single release date: | 10 April 2000 | BTFLYS0003 |
| | Album release date: | 15th May 2000 | BTFLYCD0003 |
Press release
Monday, April 10th sees the release of former Rolling Stone Bill Wyman and his band The Rhythm Kings' single Groovin'. It will be released on Wyman's Ripple Records in a joint venture with Papillon Records. Originally recorded by the Young Rascals, Bill Wyman's version of this classic features performances by some of the UK's most legendary musicians, Georgie Fame, Ray Cooper, Graham Broad, Martin Taylor and the silky vocals of Beverley Skeete.
Groovin' the album will be released on May 15th and has been described as "Giving you the blues the way they are meant to be played, with honesty, heart and outstanding musicianship." The Rhythm Kings first album Struttin' Our Stuff was released in 1997 and the second Anyway The Wind Blows in 1998. Anyway The Wind Blows was a huge success reaching the top five in the official Jazz and Blues charts and receiving rave reviews throughout the music and national press.
The Express on Sunday labelled Anyway The Wind Blows, as "An excellent new album of high octane jazz-blues fusion featuring an all star assembly," and Q declared it to be, "A dream team of musicians, delivery is immaculate - there's not a duff track on the album," and Mojo described the album as "High precision jazz-blues-pop, superbly performed by top R&B veterans."
Due to huge demand The Rhythm Kings toured the UK as a band for the first time in 1999. The band will be touring Europe in 2000 with Groovin', performing in the UK in June.
---
Groovin' lyrics
|--------------------------------------->
|                                       |
|(1.) Groovin`                          |
|                                       |
|Groovin`on a sunday afternoon          |
|Reelin`couldn`t get away too soon      |
|                                       |
|I can`t imagine anything that`s better |
|The world is ours whenever we`re       |
|together                               |
|There ain`t a place that I would be    |
|instead of                             |
|                                       |
|Groovin` on a crowded avenue           |
|Doin` anything we want to do           |
|                                       |
|There are always lots of things that we|
|can see                                |
|We could be anyone we`d like to be     |
|All those happy people we could meet   |
|                                       |
|We`ll keep on spending sunny days this |
|way                                    |
|We`re gonna talk and laugh our time    |
|away                                   |
|I feel it coming closer day by day     |
|Life will be ecstacy you and me        |
|endlessly                              |
|                                       |
|Groovin`- Reelin`- Groovin`- Reelin`   |
|                                       |
|--------------------------------------->
  >---------------------------------------|
  |                                       |
  |(2.)   Daydream                        |
  |                                       |
  |What a day for a daydream              |
  |What a day for a daydreamon` boy       |
  |Now I`m lost in a daydream             |
  |Dreamin` bout my bundle of joy         |
  |                                       |
  |And even if time ain`t really on my    |
  |side                                   |
  |It`s one of those days for taking a    |
  |walk outside                           |
  |I`m blowing the day to take a walk in  |
  |the sun                                |
  |And follow my faith on somebody' s new |
  |moan lawn                              |
  |                                       |
  |I`ve been having a sweet dream         |
  |Been dreaming since I woke up today    |
  |It`s you and me in my sweet dream      |
  |Cause you`re the one makes me feel this|
  |way                                    |
  |                                       |
  |And even if time is passing me by a lot|
  |I couldn`t care less about them dues   |
  |you say I got                          |
  |Tomorrow I'll pay the dues for dropping|
  |my low                                 |
  |Plean the face for being a sleepy born |
  |Joe                                    |
  |                                       |
  |And I can be sure that if you`re       |
  |feelin` right                          |
  |A daydream will last along into the    |
  |night                                  |
  |Tomorrow at breakfast you may prick up |
  |your ears                              |
  |Or you may be daydreamin` for a        |
  |thousand years                         |
  |                                       |
  |                                       |
  |                                       |
  >---------------------------------------|
|--------------------------------------->
|                                       |
|(3.) Rough cut diamond                 |
|                                       |
|A dollar is a dollar; a dime`s a dime  |
|I got the money but I ain`t got time   |
|Get yourself together and get your life|
|in gear                                |
|You gotta gimme some attention or else |
|I `m outa here                         |
|                                       |
|You used to dance to the same old song |
|Be in the honky tonks all night long   |
|Your head in the clouds soaking up the |
|atmosphere                             |
|You gotta gimme some attention or else |
|I `m outa here                         |
|                                       |
|Keep on dreamin` baby                  |
|Dream your dreams and you`ll lose me in|
|the end                                |
|I`m just a rough cut diamond but       |
|everybody says                         |
|Diamonds are a girl`s best friend      |
|                                       |
|Don`t go around here calling me a liar |
|I ain`t trying to set the world on fire|
|I need a little lovin` I wanna make it |
|clear                                  |
|You gotta gimme some attention or else |
|I `m outa here                         |
|                                       |
|Let`s get together just one more time  |
|We `re birds  of feather and you blow  |
|my mind                                |
|I`m tellin`you now you really gotta    |
|persevere                              |
|You gotta gimme some attention or else |
|I `m outa here                         |
|                                       |
|                                       |
|--------------------------------------->
  >---------------------------------------|
  |                                       |
  |(4.)   Mood swing                      |
  |                                       |
  |She wole me up this morning with black |
  |coffee and a kiss                      |
  |And a smile that could drive a man     |
  |insane                                 |
  |I`m not even out of bed, somebody tell |
  |me what I said                         |
  |She`s stormed through the house like a |
  |hurricane                              |
  |                                       |
  |Mood swing                             |
  |My baby`s on a mood swing again        |
  |Mood swing                             |
  |I tell you boy it`s something that a   |
  |man can`t understand                   |
  |It`s funny how her state of mind       |
  |changes with the wind                  |
  |My baby`s on a mood swing again        |
  |                                       |
  |She comes to me and whispers, let `s   |
  |cuddle on the couch                    |
  |I said I`ll be there before you count  |
  |to three                               |
  |By the time I had arrived, she was fit |
  |to be tied, she said                   |
  |You can spend the night there without  |
  |me                                     |
  |                                       |
  >---------------------------------------|
|--------------------------------------->
|(5.) Hole in the wall                  |
|                                       |
|If you wanna have a boogie right smack |
|in the face                            |
|Got an old piano and a knock out bass  |
|Drumnmer`s got rhythm shake on your    |
|seat                                   |
|You can`t stand still to the boogie    |
|beat                                   |
|Come along mama just gimme a call -    |
|cause  it`s                            |
|Sarurday night at - the                |
|hole-in-the-wall                       |
|                                       |
|They got a swinging sax, harmonica cat |
|The people round here just don`t hear  |
|that                                   |
|They`re hipsters - tipsters - got      |
|nothing to lose                        |
|They sure know how to blow - rhythm &  |
|blues                                  |
|Come along mama just gimme a call -    |
|cause  it`s                            |
|Sarurday night at - the                |
|hole-in-the-wall                       |
|                                       |
|You gotta dance with your mama - slip  |
|off your shoes                         |
|Dance with your mama - there`s         |
|nothin`to lose                         |
|Dance with your mama - well right or   |
|wrong                                  |
|Dance with your mama - baby all night  |
|long                                   |
|Baby just gimme a callm `cause i`s     |
|Sarurday night at - the                |
|hole-in-the-wall                       |
|                                       |
|Piano man`s playing in between the     |
|tracks                                 |
|Guitar picker cross the railroad tracks|
|Rolling that boogie like an old steam  |
|train                                  |
|Crossing the points in the midnight    |
|rain                                   |
|Come along mama just gimme a call -    |
|cause  it`s                            |
|Sarurday night at - the                |
|hole-in-the-wall                       |
|                                       |
|                                       |
|--------------------------------------->
  >---------------------------------------|
  |(6.)   Tell you a secret               |
  |                                       |
  |Tell you a secret - you gotta keep it  |
  |hid                                    |
  |Tell you`bout a woman - and the things |
  |she did                                |
  |She took my money - and she took my    |
  |pride                                  |
  |Gonna tell you a secret - I got nothing|
  |to hide                                |
  |                                       |
  |Cause I`m movin on down the line       |
  |Gonna leave that no-good woman         |
  |Got that devil woman - off my mind     |
  |                                       |
  |I`ll take the moonlight special - gonna|
  |do it right                            |
  |The moonlight special - and travel     |
  |overnight                              |
  |I`m going up the country - where I     |
  |can`t be found                         |
  |Find a hideway and keep my ear close to|
  |the ground                             |
  |                                       |
  |She`s a mean mistreater- and she treat |
  |me bad                                 |
  |She`s a robber and a cheater - and she |
  |got me mad                             |
  |Gonna wash that woman - right outta my |
  |mind                                   |
  |Gonna leave that woman - leave that    |
  |woman way behind                       |
  |                                       |
  |Gonna tell you a secret - gonna keep it|
  |hid                                    |
  |Tell you`bout a woman - `bout the      |
  |things she did                         |
  >---------------------------------------|
|--------------------------------------->
|(7.) Can`t get my rest at night        |
|                                       |
|Well if you feel like leavin`mama      |
|Baby please don`t wait                 |
|If you feel your trouble mounting      |
|Please don`t hesitate                  |
|                                       |
|Cause that`s alright - yeah, that`s    |
|alright                                |
|Cause if somebody else loves you       |
|Don`t help me get my rest at night     |
|Don`t help me get my rest at night     |
|                                       |
|Woke up this morning, baby             |
|Don`t know where I`m at                |
|Someone else was sitting, mama         |
|Where my baby used to sat              |
|                                       |
|So if you wanna leave, mama            |
|You know I'll pay you fare             |
|Don`t want you stayin` around, mama    |
|Your troubles give me too much to bear |
|                                       |
|                                       |
|--------------------------------------->
  >---------------------------------------|
  |(8.)   I put a spell on you            |
  |                                       |
  |I put a spell on you                   |
  |`Cause you are mine                    |
  |You`d better stop the things that you  |
  |do                                     |
  |I ain`t lying, no I ain`t lying        |
  |                                       |
  |You know I can`t stand it              |
  |The way you run around                 |
  |You know I can`t stand it              |
  |`Cause you put me down                 |
  |I put a spell on you                   |
  |Because you`re mine                    |
  |                                       |
  |I love you - I love you                |
  |I love you anyhow                      |
  |And I don`t care if you want me        |
  |I`m yours right now                    |
  |I put a spell on you                   |
  |Because you are mine -                 |
  |Because you are - mine                 |
  |                                       |
  >---------------------------------------|
|--------------------------------------->
|(9.) Tomorrow night                    |
|                                       |
|You`re mine , all mine                 |
|Everything just worked out right       |
|Oh baby, let me come and love you      |
|tomorrow night.                        |
|                                       |
|It feels good like it should           |
|Since that moment so sublime           |
|Oh baby, let me come and love you just |
|one more time                          |
|                                       |
|The minutes seem like hours, the hours |
|seem like days                         |
|Since you`ve been gone from me         |
|I wanna settle down now and change my  |
|ramblin` ways                          |
|There ain`t nothing to it when you     |
|really wanna do it                     |
|                                       |
|Yourre mine, all the time              |
|Since the day I saw the light          |
|Oh baby, let me come and love you      |
|tomorrow night.                        |
|                                       |
|Well, did you ever had a night like    |
|this                                   |
|Only when I`m dreaming                 |
|Well, well, well. did you ever taste a |
|sweeter kiss and reminisce             |
|                                       |
|Oh baby, let me come and love you      |
|tomorrow night.                        |
|                                       |
|--------------------------------------->
  >---------------------------------------|
  |(10.) I want to be evil                |
  |                                       |
  |I wanna be evil, I wanna spit tacks    |
  |I wanna be evil, and cheat at jacks    |
  |I wanna be wicked, I wanna tell lies   |
  |I wanna be mean and throw mud pies     |
  |                                       |
  |I wanna wake up in the morning         |
  |With that dark brown taste             |
  |I wanna see some dissipation           |
  |In my face                             |
  |                                       |
  |I wanna be evil, I wanna be mad        |
  |But more than that I wanna be bad      |
  |                                       |
  |I wanna be evil and trump an ace       |
  |Just to see my partner`s face          |
  |I wanna be nasty, I wanna be cruel     |
  |I wanna be daring, I wanna shoot pool  |
  |                                       |
  |And in the theatre                     |
  |I wanna change my seat                 |
  |Just so I can step on                  |
  |Everybody`s feet                       |
  |                                       |
  |I wanna be evil, I wanna hurt flies    |
  | I wanna sing songs like the guy who   |
  |cries                                  |
  |I wanna be horrid, I wanna drink booze |
  |And whatever I`ve got I`m eager to lose|
  |                                       |
  |I wanna be evil, little evil me        |
  |Just as mean and evil as I can be      |
  |                                       |
  |                                       |
  >---------------------------------------|
|--------------------------------------->
|(11.) Rhythm king                      |
|                                       |
|I`m a qualified rhythm king, and I`m   |
|ready to do my thing                   |
|I right even dance, given half the     |
|chance                                 |
|Got the knack of knowing how to rhyme  |
|And I can guarantee you a real good    |
|time                                   |
|                                       |
|I`m a fully fledged rhythm ace, always |
|going from place to place              |
|Makin`my love, in a solid groove       |
|As I boogie on down the line           |
|With my fellow kings everything is fine|
|                                       |
|Flying high, wake up in the sky        |
|Laying back on a railroad track        |
|Trailin`dust, in a luxury bus - a lot  |
|of people wanna be like us             |
|                                       |
|Cause a solid rock rhythm king, goes   |
|ahead and does his thing               |
|Way from home, just like a rolling     |
|stone                                  |
|Never knowing what the future brings   |
|When you`re on the road with the rhythm|
|kings                                  |
|                                       |
|Having fun, taking in the sun          |
|Feeling good, think I`ll knock on wood |
|Fancy free, jolly company - any time or|
|place is fine with me                  |
|                                       |
|Just to be a good rhythm king, is the  |
|most important thing                   |
|Old rock`n`roll, to satisfy my soul    |
|Swinging the blues, trying to spread   |
|the news                               |
|People every night, we set the scene   |
|alight                                 |
|                                       |
|Even drummers have been known to sing -|
|mercy                                  |
|Mobile telephones refused to ring      |
|Everybody gets to do their thing       |
|When you`re on the road with the rhythm|
|kings                                  |
|Feelin`good to knoy you`re a rhythm    |
|king                                   |
|                                       |
|--------------------------------------->
  >---------------------------------------|
  |(12.) Oh baby (we got a good thing     |
  |going)                                 |
  |                                       |
  |Nomatter how much she wants me         |
  |I`m not going nowhere                  |
  |I`m gonna stick right here baby        |
  |I know how much you care               |
  |                                       |
  |So don`t worry `bout me baby           |
  |Cause I`m right here at home           |
  |Oh baby, oh baby                       |
  |We got a good thing going              |
  |                                       |
  |He may talk  about me                  |
  |And scandalice my name                 |
  |But deep down inside me, baby          |
  |I know your my only man                |
  |                                       |
  |Maybe I knw him                        |
  |Once upon a time                       |
  |But that`s all in the past             |
  |Now baby let me know you`re mine, all  |
  |mine, all mine                         |
  >---------------------------------------|
|--------------------------------------->
|(13.) Streamline woman                 |
|                                       |
|Got me a motor, the hottest thing in   |
|town                                   |
|Weaves through traffic, can really burn|
|a Jaguar down                          |
|And when I fix her tuning`and calibrate|
|her speed                              |
|She`s got everything a hot-rod need    |
|                                       |
|We got after-burners, but I keep`em    |
|hid,                                   |
|They say I use air-line fuellin` but I |
|never did                              |
|It`sgood old moonshine whiskey that    |
|keeps that thing alive                 |
|And boy, it moves her into overdrive   |
|                                       |
|I`m wild about that sweetheart girl of |
|mine                                   |
|Worry `bout her waiting on down the    |
|line                                   |
|She`s a streamline woman, get me to the|
|church on time                         |
|                                       |
|Hey, sweet mama, I gotta take the      |
|rendezvous                             |
|It`s gonna be tight, but you know what |
|the motor do                           |
|I`ll blow my rail-road air-horns and   |
|slip in super gear                     |
|And move this dirty mother outta here  |
|                                       |
|She`s a streamline woman - waiting on  |
|down the line                          |
|She`s a streamline woman - get me to   |
|the church on time                     |
|She`s a streamline woman - sweetheart  |
|gal of mine                            |
|                                       |
|--------------------------------------->
  >---------------------------------------|
  |(14.) Yesterdays                       |
  |                                       |
  |Yesterdays, yesterdays                 |
  |Does I knew as happy sweet sequester   |
  |days                                   |
  |Golden days, golden days               |
  |Days of mad romance and love           |
  |                                       |
  |Youth was mine                         |
  |Joy us, free and flaming life          |
  |Then truth was mine                    |
  |Sad am I                               |
  |Glad am I                              |
  |All the days I`m dreaming of           |
  |Yesterdays                             |
  >---------------------------------------|

---
Thanks to Arno Klunten for details and hard work!
IORR 2000 © The Rolling Stones Fan Club Of Europe