Bill Wyman & The Rhythm Kings
Cologne, Germany, May 15, 2001
Review by Arno Kluenter, Cologne, Germany
Bill & his Rhythm Kings came onstage 8.10 p.m. The first thing surprising was the fact Gary Brooker was missing (same as the night before in Hamburg). His subsitute was a young guy looking a bit like Elvis - his name is Mike Sanchez. He did a real good job, I think, giving the band an even more boogie and R`n`R -mood. The way he plays and acts onstage is totally different than Gary Brooker does; more like Jerry Lee Lewis.
The set - as below - took us thru parts of all the Rhythm Kings albums in a nearly 2 hours gig of great music. My personal highlights were "Mystery Train" (phantastic Sax and Harmonica by Nick Payn), the wonderful Beverley Skeete doing vocals on "Melody" and performing the new single "Love letters". All thru the set Martin Taylor and Albert Lee did - once more - great guitar work with some phantastic solos. As always, Georgie Fame made his jokes.
When the band came back on stage to give the encores Bill was missing, and Georgie said "sorry, there is an old guy called bill wyman who first needs to finish his cigarette backstage".
I was lucky enough to meet Bill & the band backstage after the concert. One of the things I asked Bill was why Gary Brooker was missing. He told me that he is off the band for only a few days as he is doing a few "memorial" gigs with his old band "Procol Harum". After that - off course - he will return to the Rhythm Kings continuing the tour. I also asked Bill about the problems they had here in Germany with the local promoter (see large article on bills website www.billwyman.com; tour 2001). They planned to do about 10 gigs here in germany but cause of the problems with the promoter they now could only arrange three dates (Hamburg, Cologne, Lichtenfels). Asking if he will add more german dates in near future I have good news as Bill gave me a statement (handwritten) with a message to all his fans: " To all fans, I send to you fond wishes - and look forward to seeing you in Germany ( if not in May - maybe in November 2001) - when we may well return ! Bill Wyman "
Setlist:
Let the good times roll - Jitterbug Boogie - Walking one and only - Jump Jive and wail - Melody - Love letters - Chicken shack boogie - This little girl`s gone rockin`- Anyway the wind blows - I put a spell on you - Tell you a secret - I'm ready - Mystery train - Breaking up the house - tear it up ///// encores: making Whoopie (Martin Taylor, Georgie Fame and Beverley Skeete only), Georgia, Should have been me
New live album
Another thing just to mention is that Ripple Records now published a second live album of the Rhythm Kings, called "Bootleg Kings Ride again". As the first one (called "Bootleg Kings) this is an official cd but only sold at the concerts / venues or at Bills homepage (see "Merchandise"). Not sold in record shops ! Could be collectors items very soon ! Tracks on " Ride again" are:
I `m ready
Lead me to the water
Baby workout
Jump,Jive and Wail
Mystery Train
I'll be satisfied
Hello little boy
Baby you got what it takes
Georgie on my mind
All tracks recorded during the Rhythm Kings UK Tour 2000 at different places / venues !
Thanks to Arno Kluenter for information!
---
Cologne photo by Dirk Grotki and Arno Kluenter, Cologne, Germany. To see more Cologne photos click on this photo!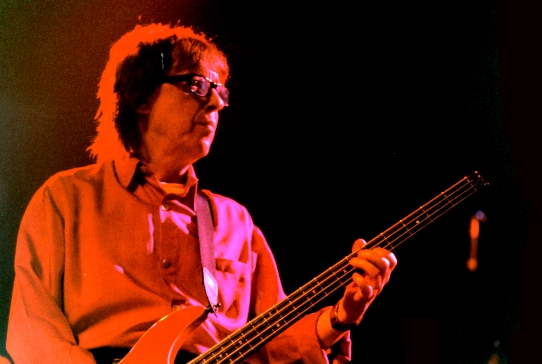 ---
If you have reviews or comments please send email! Thanks!
---




It's Only Rock'n Roll
© 2001 The Rolling Stones Fan Club Of Europe